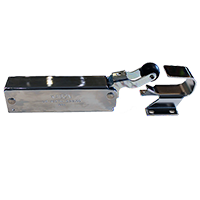 Door closers for controlled closure of walk-in cooler and freezer doors and other applications.
Category Terminology
Flush Hook or Offset Hook – Flush hooks are used when the door is even with the frame when the door is shut. Offset hooks are used when the door juts out in further than the frame when the door is shut. The distance between the frame and the face of the door is the "offset". Currently only flush and 1-1/8in offset hooks are manufactured, so any other door offset will require mounting to metal shims to align properly.
Concealed Mounting or Exposed Mount – Concealed mounting closers have a bracket that is screwed onto the door. The closer will attach to the base plate and will leave no visible screws. Exposed mount closers will often have tabs where screws are used to hold it in place. These screws will remain visible.
Base Plate – Screws that are drilled into foam may rip out, so many walk-in doors will have a metal base plate inside of the door that you can drill into. When replacing an old door closer, it is advisable to purchase a smaller or similar size closer and mount it in the same area so you make sure the closer attached to the base plate.