Frequently Asked Questions
[vc_separator][vc_toggle title="Is there a minimum order?" open="true" el_id="1458856580050-516f49b6-5ab5″]There is no minimum order when ordering parts on walkincoolerparts.com. There is a $75 minimum on offline orders to compensate for increased order processing time. There are also processing surcharges and shipping charges for offline orders. At this time, we cannot accept credit cards over telephone even for offline orders.[/vc_toggle][vc_toggle title="What payment options do you accept?" el_id="1458856580108-b22e2061-6a18″]Currently we accept Visa, Discover and Mastercard.[/vc_toggle][vc_toggle title="How can I find out the status of my order or get tracking info?" el_id="1458856580170-26ec9ca3-93f0″]Log into your account and click on the "My Account" link at the top of the screen. Or go to the
Order Tracking Info
page and enter in your Order ID and billing email address.[/vc_toggle][vc_toggle title="How are orders shipped?" el_id="1458856580229-e130b14c-c263″]We currently use Fedex Ground. Most orders take 2-3 days in-transit. Residential address delivery may take an additional 2-5 days in-transit.  Expedited shipping is available at checkout (orders placed after 11:00 AM CST may not go out until the next day). All parts are shipped out of our office located in Quincy IL.[/vc_toggle][vc_toggle title="Do you ship orders internationally?" el_id="1458856580291-f46e2ab5-7165″]At this time we only ship orders within the United States.[/vc_toggle][vc_toggle title="Why do you charge taxes in certain states?" el_id="1461266333589-562fd45d-6de2″]We charge taxes in AZ, CA, GA, IL, KY, LA, MI, MO, PA, TX and WA, because as a division of Craig Industries, we have a sales presence in these states and we are required by state law to pay taxes for transactions shipping to these states.[/vc_toggle][vc_toggle title="What if I am tax exempt?" el_id="1461266333180-d4e3eddd-dcf4″]As a division of Craig Industries Inc., Walk-in Cooler & Freezer Parts is required to charge tax in most states. If you are tax exempt, email
webparts@walkincoolerparts.com
  or fax to 217-228-2424 or
upload your form
and what items you would like to purchase, as we will have to email you a quote to order from in order to have your taxes removed before you pay.  Please give us a call if you have any questions at 866-261-2797.[/vc_toggle][vc_toggle title="How are you so much cheaper than other stores?" el_id="1461266332907-15a01f09-3d0a"]Being part of a company that also manufactures walk-in coolers qualifies us for bulk discounts on parts and we choose to pass on the savings to consumers.[/vc_toggle][vc_toggle title="Do you special order parts?" el_id="1461266332633-94e6527c-f6b8″]If you know the serial of the part, or can provide a photo of the part, you need we can order it direct from the manufacturer and have it drop shipped to your door.
Kason Catalog
|
Keil Catalog
You may also fill out a 
parts request form
. Please contact us via email or telephone.[/vc_toggle][vc_toggle title="What types of walk-in coolers & freezers will these parts work for?" el_id="1461266331982-38d4f93e-53f4″]Our Kason brand parts are utilized by various walk-in cooler manufacturers such as Amerikooler, Bally, Kysor Panel, Kolpak, Leer, Master-Bilt and U.S. Cooler. Most hardware is also good for general use and replacement.[/vc_toggle][vc_toggle title="How do I initiate a return?" el_id="1461266331422-c53b2181-63e9″]Email
webparts@walkincoolerparts.com
with your order number and reason for returning or fill out the form on the
returns page
. You will be issued an RMA number and a document to include with the returned part. We offer 75% refund on undamaged merchandise.[/vc_toggle][vc_toggle title="Can I order over the phone?" el_id="1461266330083-d4d83892-307d"]You may call us at 866-261-2797. Bear in mind that offline orders are subject to shipping charges and a $75 (plus shipping) minimum order and a $20 processing fee.[/vc_toggle]
Additional Product Category Information
[vc_tta_tabs style="modern" active_section="1″][vc_tta_section title="Closers" tab_id="1463074897983-b9d478a3-6edd557e-9260270f-862c"]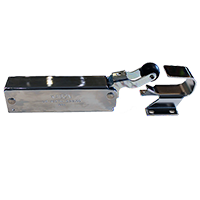 Door closers for controlled closure of walk-in cooler and freezer doors and other applications.
Category Terminology
Flush Hook or Offset Hook – Flush hooks are used when the door is even with the frame when the door is shut. Offset hooks are used when the door juts out in further than the frame when the door is shut. The distance between the frame and the face of the door is the "offset". Currently only flush and 1-1/8in offset hooks are manufactured, so any other door offset will require mounting to metal shims to align properly.
Concealed Mounting or Exposed Mount – Concealed mounting closers have a bracket that is screwed onto the door. The closer will attach to the base plate and will leave no visible screws. Exposed mount closers will often have tabs where screws are used to hold it in place. These screws will remain visible.
Base Plate – Screws that are drilled into foam may rip out, so many walk-in doors will have a metal base plate inside of the door that you can drill into. When replacing an old door closer, it is advisable to purchase a smaller or similar size closer and mount it in the same area so you make sure the closer attached to the base plate.
[/vc_tta_section][vc_tta_section title="Gaskets" tab_id="1463074898057-bb03f3ca-282f557e-9260270f-862c"]
Dart – A protrusion that may be shaped like an arrow and pushes into a groove to secure the gasket.
Magnetic Gasket – A type of gasket that seals to the frame using magnets embedded inside of it. A magnetic gasket may be secured to the door with a dart or by some other method.
Wiper Gasket – On some models of walk-in, wiper gaskets will be found around the door and the frame to prevent air infiltration and icing. Customers sometimes refer to them as sweeper gaskets, not to be confused with a door sweep that is found at the bottom of the door.
[/vc_tta_section][vc_tta_section title="Rain Roofs" tab_id="1464117839305-b234f606-937b270f-862c"]
Rain roofs are important for outdoor walk-ins to prevent water damage. We offer Duro-Last polyvinyl membrane roofs with all the mounting hardware and drip caps for the door. Measure the outer dimensions of your walk-in and choose from our standard sizes, or get a quote on a custom roof.
The Duro-Last membrane is a proprietary thermoplastic formulation that provides exceptional flexibility, reflectivity, resistance to U.V. radiation and flame retardance.
Roofing system performance is a balance between film formulation, membrane thickness and reinforcement. Duro-Last adds no "filler" material to increase the membrane thickness; their
film is the same proven formula from top to bottom. A key Duro-Last difference is the reinforcement scrim within the membrane. It's a weft-insertion scrim with a density of 14 x 18 threads-per-inch which is among the highest in the industry.
[/vc_tta_section][/vc_tta_tabs]